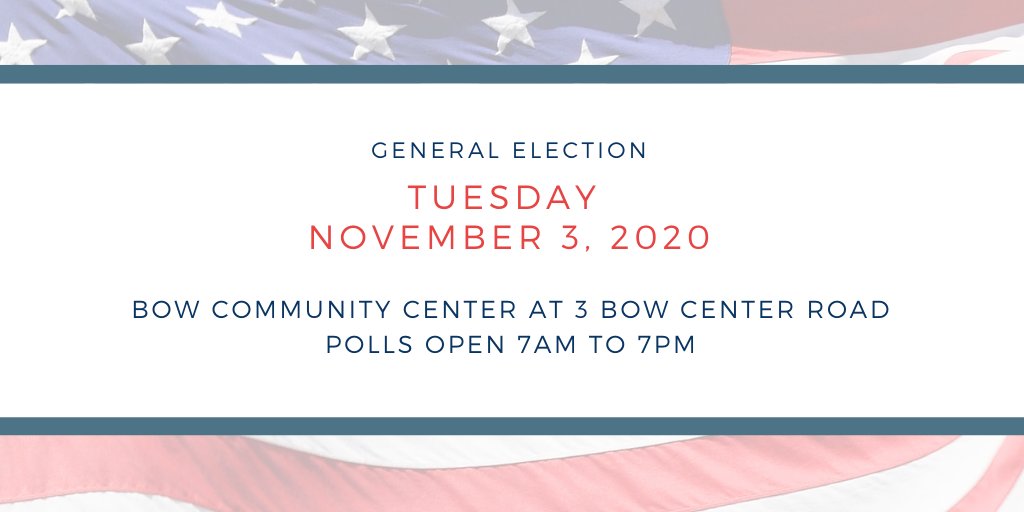 ---
Check Out These Titles Available at the Library
---
Town of Bow Updates & Information
Voting will be held at the Bow Community Center at 3 Bow Center Road | Polls will open 7am-7pm | Masks required

Important Election Protocols for Upcoming Elections
Application for Absentee Ballot
Masks will be Required at the Polls
Have you planned ahead for the elections?
View the FAQ's Sheet from nonpartisan group, Open Democracy HERE
New Hampshire Election FAQ's and Information
New Hampshire Secretary of State
Town of Bow Sample Ballot
Absentee Ballots are available for the State Primary Election
For more information, contact the Town Clerk at the Town Offices | 10 Grandview Rd. Bow, NH | (603) 223-3980
---
Register to Vote
Click on the Links to Learn More
Town or City Clerk's Office | At the Polls on Election Day | Absentee | Registration Deadlines
---
Political Parties
Click on the Links to Learn More
Republican Party
National | New Hampshire | Town of Bow
Democratic Party
National | New Hampshire | Town of Bow
Liberatarian
National | New Hampshire | Town of Bow
Green Party
National | New Hampshire | Town of Bow
---
Debate Schedule
Presidential Debate
October 22, 2020 at Belmont University (Nashiville, Tennessee)
September 29, 2020 at Case Western Reserve University (Cleveland, Ohio)

Vice Presidential Debate
October 7, 2020 at The University of Utah (Salt Lake City, Utah)
---
Candidate Information
*List compiled in alphabetical order
President/Vice President
Democratic Party
Libertarian
Republican Party
Governor
Democratic Party
Libertarian
Republican Party
U.S. Senator
Republican Party
Libertarian Party
Democratic Party
Congress
Democratic Party
Republican Party
Libertarian Party
State Senator
Democratic Party
Republican Party
To View the Full Ballot for the General Election, CLICK HERE

See Where They Stand, Click Here to view Q&A's and Interviews for this year's candidates.
---
Campaign Financial Disclosures
Federal Election Commission - Official United States Government website that tracks campaign finance and donations.
---
General Resources
BallotReady - A nonpartisan site that allows you to 'build your ballot' by exploring every candidate and referendum, including candidate's backgrounds, stances on issues, and experience.
BestColleges.com Student Voting Guide - A nonpartisan guide designed for college students. Includes a bipartisan key issues guide and voter registration information for each state.
ProCon.org - ProCon.org is a nonprofit nonpartisan public charity that use professional researchers and rigorous editorial standards.
Project Vote Smart - A nonprofit, nonpartisan research organization that collects and distributes information on candidates for public office.
Annenberg Political Fact Check - Designed to help voters by "monitoring the factual accuracy of what is said by major U.S. political players in the form of TV ads, debates, speeches, interviews, and news releases." Updated even when it is not election season. Includes information on special interest groups behind television ads.
Center for Public Integrity - A well documented investigative journalism organization and winner of the Pulitzer Prize in 2014 & 2017.
Ad Fontes Media - A media bias chart that rates the news for reliability and bias to help people navigate the news landscape.
---
This page is compiled and maintained by librarians at the Baker Free Library in Bow, NH. Links to political parties and/or campaign websites are for informational purposes only and do not in any way constitute an endorsement.
---