History of the Baker Free Library
In 1912, Congressman Henry M. Baker, cousin of Mary Baker Eddy, donated $10,000 and the land next to his family home on South Street to the Town of Bow for the creation of a public library. The new Baker Free Library was dedicated two years later at its present site. The Library has been an important part of the community's cultural life for almost 100 years.
In 1967 an addition was completed and it's served the needs of the growing Bow community for over 30 years. In September 1999 the first floor of the 1967 addition was demolished to make way for the current addition and renovation of the original building. Dennis Mires, P.A., The Architects of Manchester, New Hampshire, designed the expansion plan. The Library's square footage expanded by 5,200 square feet for a total of 9,333 square feet.
On October 21, 2000 the new addition and renovated original building were rededicated. The facility provides seating for quiet study, Internet access, an automated catalog and circulation system, and a friendly staff receptive to suggestions for improvements.
---
Explore the Baker Heritage Room
Available by Appointment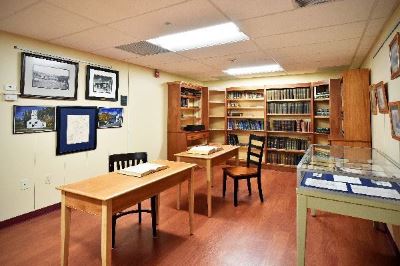 The Baker Heritage Room is located in the Lower Level of the Library in a climatically controlled and secure room. The bookcases and displays hold a portion of the Henry Baker Collection, Town records, photos, and books of historic value.
To learn more and see what is on display, click here.
To learn more about Henry Baker, visit the link below.
hbakercollection.wordpress.com/
---