New Releases at the Library
Click on the Book to Check Availability
---
Resources for Readers
Reading recommendations, themed book lists, and more!
---
Storytime Programs
Next Session Begins March 14, 2023
The library offers two weekly, in-person storytimes for our youngest patrons and their caregivers. Storytimes are offered in 6 week sessions every season. The next session begins on March 14, 2023.
*Due to high demand, families may only register for one storytime per week at this time.
---
Registration is REQUIRED for storytime programs!
Please register using our online calendar.
---
Shimmy & Shake Storytime
Tuesday Mornings | 10:30AM
Encourage school readiness with a storytime for active bodies and minds! Explore stories, songs, and activities that address attention while promoting early literacy concepts. Each storytime includes instrument play and movement activities, and ends with a family dance party Recommended for 3 - 5 Years.
Toddler Time Storytime
Thursday Mornings | 10:30AM
Explore a new topic each week through stories, songs and rhymes, and engage in literacy activities designed to spark your child's imagination. Each storytime ends with open play time using the library's collection of toys and manipulatives, allowing families to meet and socialize. Recommended for 18 Months - 3 Years.
---
1000 Books Before Kindergarten
Register at the Library!
Baker Free Library takes part in the nationwide initiative 1000 Books Before Kindergarten to promote reading to newborns, infants and toddlers. Studies have shown that reading to children from an early age helps them gain the confidence and early literacy skills they need to become strong readers.
Stop by the library anytime to sign up for the program. Upon sign-up, your child will recieve a canvas library tote bag and their first 100-book chart, to track their progress in the program. Every time your child completes a 100-book chart, they may return it to the library for a small prize. When they complete the entire program by reading 1000 books, they will receive a certificate of completion, a free book of their choice, and recognition of their accomplishment on our website and social media pages!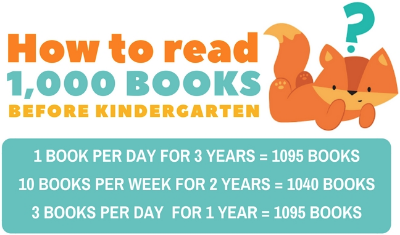 For additional resources, visit the 1000 Books Before Kindergarten website or contact our Youth Services Librarian, Juliana, for more information.
---
Tinker Kits
Borrow more than just books!
With a library card, families can now borrow Tinker Kits from the Baker Free Library. These kits include two books each on a scientific topic, as well as games, toys and manipulatives that help children explore and engage with the world around them. Currently, the library circulates 5 Tinker Kits:
Magnetism Kit
Recommended for Ages 3-6
Nature Kit
Recommended for Ages 4+
Coding Kit
Recommended for Ages 7+
Ocean Kit (2)
Recommended for Ages 4+
Simply search for "Tinker Kit" in the library catalog to learn more. The library also circulates a telescope for budding stargazers! The Orion StarBlast 4.5 Reflector Telescope, provided by the New Hampshire Astronomical Society, is available to borrow with a valid library card (borrower must be 18 or older).
---
Outreach Opportunities for Schools & Daycares
The library strives to support the cirriculum of all educators in Bow. With outreach, children can enjoy storytimes, literacy activites, and child-friendly orientations to the library and its collections, while older students can participate in book talks, library orientations and one-on-one introductions of the Library's digital resources. Educators in the Bow School District are also eligible for FREE library cards from the Baker Free Library, whether or not they live in Bow. Please contact us at (603) 224-7113 for more information.
What We Can Provide for Students
Our Youth Services Librarian, Juliana, is available to conduct school visits by appointment.
---
Check Out Our Homeschooling Resources Page!
Click on the Image to View
---