Summer Reading Begins June 17!
This year's theme, Find Your Voice, explores language, communication, expression, storytelling, art and music!
To sign-up for Summer Reading, choose your program below beginning Saturday, June 17.

Once you've signed up for the Summer Reading program, you can either visit the library to pick up paper copies of your reading record or Bingo card, or download and print your own copies from home! Links are provided for all of our printables below.
---
Printables
Junior Program (For Ages 0-5):
Find Your Voice (For Grades K-6):
Instructions
Event Calendar
Book List
Book Bingo (For Teens and Adults):
---
Events
Visit our event calendar to see the full summer line-up,
and to sign-up for any programs requiring registration.
Touch-a-Truck!
Friday, June 17 | 10AM - 12PM
Stop by the library beginning on Saturday, June 17 to register for the Summer Reading Program. From 10AM-12PM, you can also visit with members of Bow's Police and Fire Departments and explore amazing vehicles as part of our annual Touch-a-Truck event! Featured vehicles will include a police cruiser, a fire engine, a garbage truck and a cement mixer. Kona Ice will also be on site with frozen treats for sale. All ages welcome.
---
Featured Performances
Simon Brooks, Storyteller
Wednesday, July 19 | 5:30PM
British storyteller Simon Brooks began entrancing audiences in 1997. His family-friendly tales are filled with humor and adventure. He invites all to investigate and become fascinated with Story as he drops you into tales so vividly, you'll believe you've stepped into another world! Recommended for ages 5 and up, but all are welcome.
Children's Concert with Judy Pancoast
Thursday, August 10 | 5:30PM
Grammy-nominated children's musician Judy Pancoast returns to New Hampshire to sing about "Finding Your Voice" with our youngest patrons. Through song and storytelling, Judy will share how she found her voice as a songwriter while encouraging the children to dance, move, and find their own voices! Following the performance, everyone is invited to enjoy their own ice cream sundae as we celebrate the end of another fantastic summer. All ages welcome!
---
Drop-In Activities
Stay & Play
Tuesdays at 10:30AM, June 20 - August 8
One morning a week, join us for an hour of open play time in the library's MCSB Room. The library's collection of toys and manipulatives will be available for children to use. The room will be open for an hour; feel free to drop by for any or all of our play time. Recommended for ages 2-6, but all are welcome.
Shimmy & Shake Storytime
Thursdays at 10:30AM, June 22 - August 3
A weekly storytime for active bodies and minds. Explore stories, songs, and activities that address coordination and movement while promoting early literacy concepts. Each storytime includes music, instrument play and movement activities, and ends with a family dance party! Designed for ages 3-6, but all ages are welcome.
Maker Mondays
Mondays from 2:30 - 4:00PM, June 19 - August 7
Throughout the summer, join us for a drop-in craft session every Monday afternoon from 2:30-4:00PM. Make a guided project led by one of our librarians, or create something totally unique using the library's collection of craft supplies! Various materials will be available while supplies last. Recommended for Ages 5 and Up.
Summer Movie Sing-Alongs
Select Wedesdays at 2:00PM
Beat the heat with a free family movie on select Wednesday afternoons. Join us in the MCSB Room for a musical movie, and come prepared to sing along! Refreshments and popcorn will be provided. A schedule of movie titles and ratings is provided below:
June 21: Sing (PG)
July 12: Encanto (PG)
July 26: Annie – 1982 Version (PG)
August 9: Coco (PG)
All Summer Long: Design a Bookmark!
Can you design a bookmark for the Baker Free Library? You decide on the colors, the design, and the artwork. All you have to include is this year's reading theme, FIND YOUR VOICE, somewhere in the design! Please add your name, age and phone number on the back of your completed design, and submit it to one of our librarians by August 1. At the end of the summer, three designs will be chosen and printed into bookmarks for your friends and family to use!
Special Events for Children
*These events require registration in order to reserve your spot.
Ruff Readers
Thursdays from 2:00 - 3:00PM, June 22 - August 3
Children can gain confidence and improve literacy skills by reading aloud to a one-of-a-kind audience! Reserve a 15-minute time slot to read to one of our canine volunteers, certified through Therapy Dogs International. Readers of all abilities are welcome! Children 8 years and under should be accompanied by an adult for the duration of their visit. Please register to reserve your spot.
Comics Workshop with Marek Bennett
Wednesday, June 28 | 4:00 - 5:00 PM
Come create comics with award-winning cartoonist and graphic novelist Marek Bennett, author of the Freeman Colby series, at this special workshop for kids! No experience needed. Recommended for ages 7 and up. Please register to reserve your spot, as space is limited.
---
Prizes
Ages 0-12
Junior Program:
All pre-readers who complete at least fifteen activities in the Junior Program will win a free board book. Stop by the library at any time during the summer to choose yours!
Oceans of Possibilities (Grades K-6):
Weekly Raffle: We will draw one raffle winner from each grade, every single week. Raffle winners will have their choice of prizes from anything available in this year's Summer Reading store. Available prizes include instruments, inflatables and pool toys, keychains, crazy straws, building kits, and a wide assortment of books and stuffed animals! The more reading you do, the more raffle tickets you'll earn.
Goal Prize: K-6 participants who reach their personal reading goal will win a one-hour Jump Pass from Altitude Trampoline Park in Concord, NH.
Teens and Adults
Two $10.00 gift certificates will be raffled off every week to one teen and one adult winner. Gift certificates purchased by the library support local businesses, restaurants and shops. This year, gift certiticates are available from Gibson's Bookstore, The Works Cafe, and Granite State Candy Shoppe. Earn raffle tickets for every book you read!
Grand prize raffle tickets will be earned for every Bingo you complete -- for a total of up to 12 per person, if you fill your entire card. Two grand prizes will be awarded at the end of the summer, one for a qualifying teen and one for a qualifying adult. Each grand prize includes a $25.00 gift certificate to Gibson's Bookstore.
---
Our Sponsors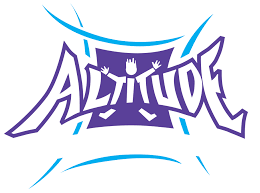 Thank you to our sponsor, Altitude Trampoline Park, for donating prizes to this year's Summer Reading Program. Visit them at the Steeplegate Mall in Concord, NH, or learn more by visiting their website.
---